Tell Me More!
---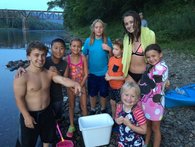 Who visits Three Otters?

Everyone! Individuals, couples, families, and small to large groups. Groups enjoy Three Otters for church gatherings, birthday parties, family reunions, weddings and retreats. We also welcome cyclists off the C&O Canal and boaters off the river. Cyclists, we'll get you and your gear to and fro - across the the river, and boaters, we are happy to arrange a shuttle to get you and your gear back to your car.
---
---
Location, location, location!
Tucked in a forested river valley and just 2 & 1/2 hours from DC and Baltimore and 3 hours from Pittsburg,
Three Otters
is in a remote area in the eastern panhandle of WV. Across river, on the Maryland side, is the 47,000 acre Green Ridge State Forest and US National Park's C & O Canal.
Three Otters
sits on 14 magnificent acres with a quarter mile of riverfront along a wide, gentle stretch of the Potomac. The property boasts 10 acres of hardwood forest - perfect for short hikes and woodland adventures - and open space with organic gardens, a small orchard, and ball fields. See our
Property Map
for a detailed layout of the entire space.
---
Handicap Accessibility
We have done our level best to make Three Otters handicap accessible including ramps on our structures, designing wheelchair friendly kitchens, and providing a full ADA restroom. All are welcome to Three Otters, we do not discriminate on any basis!
---
Are you open year round?
No, it's too cold in winter. Our three seasons - spring, summer and fall - run from early April until mid-Nov.
Unplugging and Re-Connecting
When we mentioned "unplugging" before, we were being literal. We have extremely limited cellphone service and no internet. Imagine that, a tech detox! We do have a land line that you are welcome to use anytime.