Camping

Sleep under the stars...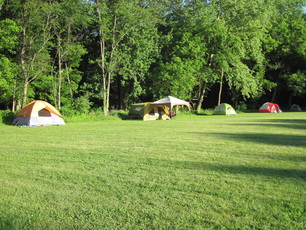 We have tent campsites sitting at the forest's edge and nestled in the woods. We also have areas that are ideal for group camping and quiet, private spaces if you are looking to get away. When you arrive at Three Otters, walk the grounds and decide which site suits you. As long as there are sites available, you can take your pick!
You can check out our Property Map before you arrive to get an idea of where you'd like to be. You may have up to two tents and six people per site. If you have a larger group, you'll need to request a second site.
---
---
Camping - Max of 6 people / Site

Peak Season Rate (May 14-Oct 21):
$40/night (2 adults; $5 for each additional person, kids 2 and under stay free)

Off-season Rate: Spring (April 1-May 13) and Fall (Oct 23 - Nov 18)
$32/night (2 adults; $5 for each additional person, kids 2 and under stay free)
.
Note: Vintage Trailer guests have access to and full use of the Grill Pavilion, Bathhouse, Overlook Deck, and grounds (trails, ball fields, riverfront). Included in the price your party may also enjoy use of the communal River Kitchen which has A/C and heat and a full restaurant grade kitchen with fridge, freezer, ice maker, double oven, microwave, coffee pot, seating for 20, a rear deck with additional seating overlooking the river, and a full bath.


**FYI on Camp Sites & RVs:
Camp Sites: We do not have hook-ups or gravel site pads. In terms of campfires, we've gone green. Three Otters provides a nightly campfire for all to enjoy, but we do not allow fires at individual sites. That said, if it's a special occasion (e.g., your 65th anniversary), let us know...we understand, and we do make occasional exceptions.
RVers: We are off the beaten path, so only small, rugged RVs or pop-up campers are suitable for Three Otters.
Extras
: If you would like to camp, but don't have a tent, we have tents available for rent, along with a wide range of other camping equipment including dining tents, air mattresses, and lanterns. Or, let us set your camp up for you, see our
Big Agnes Tents.
Additional Lodging Information can be found here.